3 Quick and Easy Camping Recipes To Enjoy With The Whole Family
What's a family camping trip without a campfire and some delicious food cooked over a fire? Along with enjoying the many amenities and activities at Gold Country Campground Resort and area attractions in and around Pine Grove, spend some quality time together cooking outdoors around your campsite's or cabin's campfire or grill. The following quick and easy camping recipes are sure to enhance your family vacation getaway.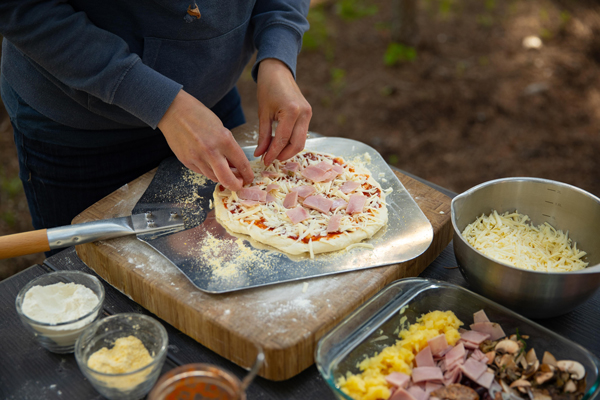 Try These Quick and Easy Camping Recipes
Muffin Pan Breakfast
Make breakfast less of a clean-up job and more of a savory experience the whole family can enjoy using a muffin pan!
First, coat each cup with cooking spray or butter.
Then let each person decide if they want a scrambled or sunny-side-up egg before building their own muffin tin egg.
Have ingredients like salt and pepper, chopped ham, bacon, and sausage, shredded cheese, and chopped onions, tomatoes, mushrooms, and green peppers on hand so everyone can add to their egg(s).
Next, place the filled muffin pan over hot coals. For even cooking, cover the top with foil.
Check for doneness throughout the cooking process.
Once eggs are set, use a spoon spatula to remove eggs from the muffin pan and enjoy!
Grilled Pizza The Way You Like It
You can't go wrong with pizza as a meal, and this custom-made pie is sure to be a mouth-watering treat for everyone involved.
Coat your pizza pan with olive oil and place a premade pizza crust on it.
Cut into fourths for easy flipping.
Place over a heated grill for a few minutes, flipping sections to ensure even heating.
Once the crust is hot, add pizza sauce and sliced mozzarella cheese as desired to each section.
Add toppings like tomatoes, pepperoni, or mushrooms, and then cook until the cheese is melted.
Remove from the grill and top with fresh toppings, such as basil, before cutting and serving.
Chocolate Chip Cookie Nutella S'mores
Leaving the best for last on this list of quick and easy camping recipes…To make Chocolate Chip Cookie Nutella S'mores:
Roast two marshmallows over the fire.
Then carefully sandwich between graham cracker squares smeared with Nutella spread.
These quick and easy camping recipes are sure to add a bit more flavor to your family getaway at Gold Country Campground Resort. If you forgot or are running low on camping essentials, including food and drinks, be sure to stop by our camp store to stock up.
Get Out and Enjoy a Tasty Camping Trip With Us!