4 Reasons To Go Camping in the Fall at Gold Country
At Gold Country Campground Resort, we have great weather well into the fall! That means more time to enjoy our summertime amenities like the pool and splash pad. Camping in the fall also means more opportunities to bond with the family and enjoy nature even longer! From fall colors to nearby special events and access to all resort amenities to reduced camping rates, there's much to enjoy when you and the family stay with us in the beautiful foothills this fall season.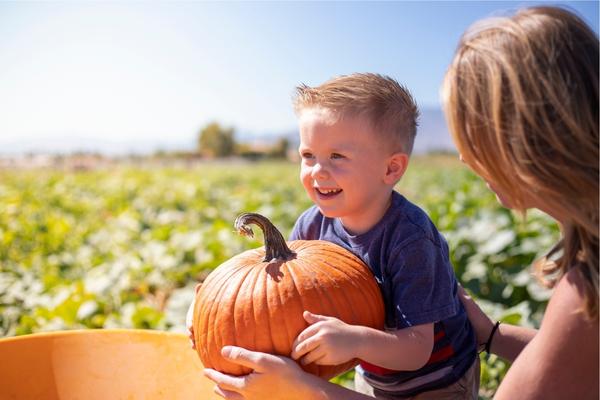 4 Reasons To Go Camping in the Fall at Gold Country
#1 Fall Colors
Come camping in the fall and see the start of our oak trees changing color here at the resort. Or take a relaxing, scenic drive along Highway 88 over Carson Pass for some fantastic foliage! Trees on Carson Pass and down the eastern slope into Hope Valley begin to show their fall colors in early September. There are several wide places along the highway where you can pull off and stop for magnificent panoramic views.
#2 Local Seasonal Events
Amador County offers all sorts of exciting community events throughout the year, and the fall season is no exception. During October, for example, families can make Gold Country Campground Resort their base camp for seasonal events like:
Amador Flower Farm's Pumpkin Patch & Corn Maze in Plymouth
Visitors can purchase from a large variety of farm-grown pumpkins on display, traverse the challenging corn maze, visit the farm animals, and so much more. The farm is open every day in October from 9:00am – 4:00pm and offers free admission for all ages!
Mariposa-Amador City's Celebration of Fall Arts
During the weekend of October 22nd and 23rd, Amador City transforms into a flutter of frenzy with art pop-ups, food and drinks, and lots of festive fall activities in honor of the gorgeous Monarch.
Preston Castle Haunt in Ione
Dubbed "Northern California's only REAL Haunted House," Preston Castle invites the bravest of brave to enter if they dare and experience the scariest of frights and the best of times with friends and family. The historic site turns into a haunted house every Friday and Saturday in October, beginning on the 14th.
#3 Mild Weather
It may be fall, according to the calendar, but the weather is still perfect at Gold Country Campground Resort. Mildly warm fall weather means we can continue to keep all of our amenities and activities open. So until the end of October, campers can take advantage of the last bit of summer-like fun before it's gone. Come up and enjoy some mini-golf, a swim, horseshoes, basketball, and more!
#4 Reduced Camping Rates
After October, when our Peak Season ends, campers can enjoy reduced rates for all RV sites and cabins. Many guests enjoy staying during this time when the crowds thin out and the park quiets down.
Come And Enjoy Fall At Gold Country
There are many ways to enjoy camping in the fall at Gold Country Campground Resort. Be our guests this October, and make unforgettable memories with family and friends this new season!