4 Fun Family Camping Activities To Enjoy After Dark
Even after sundown, there are more fun camping activities that you and the family can enjoy. From active games to sit-down chats and quick treats to distant discoveries, these activities are sure to keep the crew engaged and entertained throughout the night!
4 After-Dark Family Camping Activities
Note: Campgrounds have Quiet Hours posted for all guests to abide by. The following camping activities can easily be enjoyed between sundown and before Quiet Hours begin.
#1 Campfire Game
Gather around the campfire and make it a memorable night of storytelling and laughs with the game of Fortunately and Unfortunately. This game begins with the first participant giving a positive statement like "Fortunately, I won the lottery today." The next player continues with an unfortunate statement like, "Unfortunately, I lost the ticket." The story continues in this Fortunately-Unfortunately sequence until it comes to an agreed-upon end.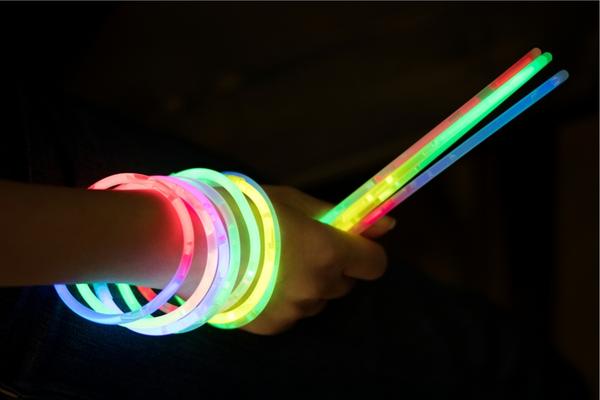 #2 Try a New Kind of S'more
While nothing beats the traditional s'more, sometimes it's just plain fun to mix things up and try a different take on this yummy dessert! Experiment with ingredients for new creations like:
Chocolate Chip Cookie Nutella S'mores
Substitute graham crackers with chocolate chip cookies. Spread Nutella on the inside and add your roasted marshmallows.
Strawberry Shortcake S'mores
Use shortbread cookies and add fresh sliced strawberries with your roasted marshmallows.
#3 Glow in the Dark Charades
Collect an assortment of glow-in-the-dark accessories like glow sticks, bracelets, necklaces, and more. Activate each before tossing them into a box. Players take turns reaching into the box and using these accessories to act out an activity such as juggling or bowling. The others try to guess what action is being performed.
#4 Stargazing Without a Telescope
The night sky is quite spectacular, but when you don't quite have the packing room for a telescope, your smartphone will do just fine! The best stargazing apps like SkyView Lite, Star Walk 2, NASA, and SkySafari bring the wonder of the night sky right into the palm of our hands.
It May Be Fall, But It Still Feels Like Summer At Gold Country
Even though the official beginning of fall is just around the corner, it still feels like summer at Gold Country Campground Resort (well into October actually), which means campers can expect to experience all sorts of summertime fun when they stay! So after you park your RV, pitch a tent, or rent a cabin, enjoy the many amenities of Gold Country Campground Resort!
Take a refreshing plunge in our swimming pool.
Try the eight different water elements at the spray park.
Play a game of pool or enjoy an arcade game.
Test your skills at horseshoes.
Putt your way through our mini golf course.
And have some fun after dark with family camping activities!
Enjoy Camping With the Family From Sunup to Sundown and Then Some!