Amador County is Old Vine Country
Amador means 'lover' in Spanish. What could possibly be a better name for a place that produces some of the most delightful and beloved red wines – particularly zinfandel – in all of America?
Why Old Vines
Vineyards sprung up about the same time as the 1849 Gold Rush, to slake the thirst of the miners. Vines that are at least 50 years old or older and are important to California wine production because they produce the smallest grapes with the most intense flavors. Compared to table grapes, wine grapes look like tortured little runts. Old vine country grapes are even runtier. But the flavors they produce are without equal.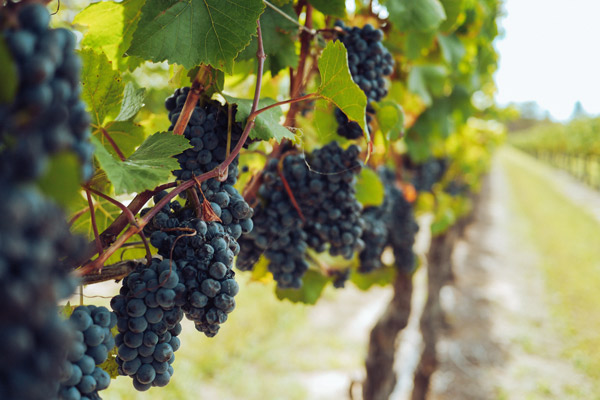 What is Zinfandel
Zinfandel is the Croatian name for a dark blue, almost black grape with a crazy ripening pattern. Grapes that are so ripe they have turned to raisins will be in the same bunch as grapes that are still green. The Italians call this grape 'Primitivo.' You will call it jammy, robust, and delicious.
If you plan to visit Gold Country Campground in late August or during the fall, you'll be right on time for the grape harvest. Zinfandel is typically grown in the summer and harvested as early as mid-August and well into Autumn, often called a "late harvest" Zin.
Phone ahead to make a reservation, then hop in the car for a quick trip to Amador County and the DiArie Winery (209 245- 4700).
Billing itself as a "Mecca of Zinfandelegance," DiArie produces small lots of bold, elegant, award-winning wines. One example is the highly regarded Southern Exposure Zinfandel, made from Amador's "Original Grandpere Vineyard," which contains the oldest Zinfandel vines in the U.S.
Pick up a few bottles to bring back to Gold Country or enjoy a picnic at the winery. DiArie offers a peaceful, romantic ambiance, and guests are welcome to picnic under the oaks or meditate by the Koi Pond and waterfall. Dog friendly too.
If you have any of that yummy wine left to bring home with you, try your Zinfandel with grilled lamb chops. They go great together!
Easy Grilled Lamb Chops
This lamb chop recipe comes together in no time! After marinating, the chops are only on the grill for 10 minutes!
Marinate: Lamb chops that are at least 1″ thick for 2 – 8 hours in a flavorful blend of fresh rosemary, thyme, lemon juice, salt, pepper, and olive oil. Maybe a little bit of cayenne pepper too.
Pro tip: Put the chops in the marinade before you head out to the winery. They will be ready to grill when you get back.
Grill: Sear both sides of the chops on high heat, then reduce the heat and cook until the desired internal temperature is reached.
Sure, you can drink wine anywhere, but why not enjoy it under the starlit skies and the tall trees of Gold Country Campground?
Reserve your stay today!