Benefits of Long-Term RV Stays at Campground Resorts
Whether you are a snowbird, full-time RV family, digital nomad, on-location worker, or leisure traveler, the thrill of exploration and adventure is almost as exciting as saving on an RV site in an ideal location. There are many ways you can save on your next RV site, one of those options being long-term RV stays at campground resorts. When you opt to stay for a month or longer, you are not only getting a heavily discounted price tag on your site, but you are reaping many other benefits in the process!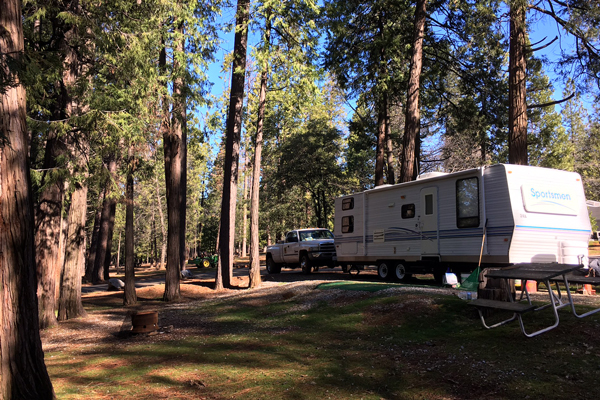 5 Benefits of Long-Term RV Stays
#1 Stellar Surroundings in a Spacious Full Hookup RV Site
Campground resorts are located all across the country, overlooking some of the most magnificent, magical backdrops. Take Gold Country Campground Resort, for example. Our cozy resort nestled among towering pines features 80 full hookup RV sites, with many designed to handle today's largest big rigs. Start each day with mountain views and coffee percolating over your site's campfire.
#2 Quality Amenities Just Steps From Your Campsite
Talk about convenience! When you opt for long-term RV stays at a campground resort, you can take advantage of all the great amenities they have to offer. From a camp store to laundry facilities and cable hookups at each campsite to free state-of-the-art WiFi, Gold Country has everything you need for your personal and business needs. And for an additional small fee, we also offer premium WiFi for HD streaming and gaming.
#3 An Array of Activities On-Site
In addition to quality amenities, many campground resorts provide an array of activities for all ages. When you stay with us, you and the entire family can choose from an assortment of games and attractions to enjoy every day of your stay, like a game room, playground, mini-golf, horseshoes, basketball, over 40 acres of nature trails, and much more!
#4 Area Attractions Just Minutes Away
Five-star campground resorts like Gold Country are usually in close proximity to popular attractions and outdoor activities. Gold Country Campground Resort, open year-round, is in the California Gold Country Region, allowing for a truly unique, rich, and varied camping experience. Go skiing at Kirkwood Ski Resort, take the family on a gold mining tour, or explore the clutter of historic Gold Rush towns like Sutter Creek.
#5 Save on Your Site
Staying monthly at a campground resort also means that you are saving a ton on RV site expenses as opposed to paying nightly or weekly rates. At Gold Country, monthly rates include metered electricity, water, sewer, cable, WiFi, and full access to all resort amenities. And, regardless if you are staying in a full hookup RV site with 30 or 50-amp electric service, the rates all start at $700 per month!
Recent Work to the Park Facilities
Recently leveled and added new gravel to all RV sites.
All new mattresses for all Lodge Rooms and Cabins.
Off season clean-up and cosmetic improvements.
Sprucing up the common area restrooms is underway.
If you and your traveling crew are seeking long-term RV stays in a spectacular setting, consider Gold Country Campground Resort, where the air sparkles, the gold glistens, nature frolics, and our RV Extended Stay Program is a steal of a deal!
Make Gold Country Campground Resort Your Home Base for a Month or Longer!