California National Parks
California National Parks are known for their immense beauty and diverse landscapes. From blazing hot deserts to lush Redwood forests, they are truly wonders of the natural world. People come from all over to view these beautiful places, so it's definitely a bucket list destination!
It's time to start planning your California National Park adventure!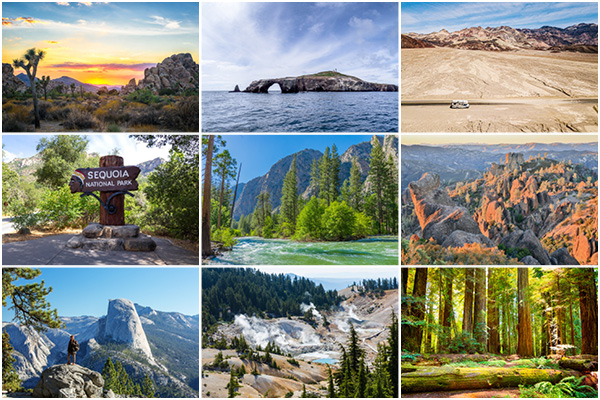 The Nine California National Parks
California has Nine National Parks from the southern deserts to the northern forests. With iconic scenery like Yosemite's Half Dome to wonderful ocean life at Channel Island, you could spend an entire lifetime exploring all the different landscapes. Here are the Nine California National Parks you could visit on your next road trip.
Joshua Tree National Park
A lot of California National Parks are named after the trees that inhabit them and Joshua Tree is first on that list. This beautiful otherworldly park is filled with these bristled, palm-like trees that defy the desert odds. With rocky, tan landscapes you feel like you're on Mars.
Channel Island National Park
Head to the Pacific Ocean and discover the ocean life of the California Coast. The 5 islands that make up the area are rich in ecology and cliffside views.
Death Valley National Park
Get ready to be hot. Desert desolation at its finest, this California National Park is always breaking records. The hottest place in the US in fact, Death Valley is a really neat place to experience the vastness and surprising life that can be found in the desert.
Sequoia National Park
Another tree-themed park, Sequoia National Park is known for housing some of the oldest and largest trees in the world. Living over 3,000 years in some cases, you'll marvel at their sheer resilience.
King's Canyon National Park
A neighbor to the Sequoias it's also known for its awesome trees. But it also has rivers, waterfalls, valleys, and tons of wildlife!
Pinnacles National Park
Pinnacles is known for its odd rock formations. Towering mountains greet you and blooming wildflowers welcome you in. Watch out for wildlife too!
Yosemite National Park
Most people think of Yosemite when they think of California National Parks. Known as the home of Half Dome, El Capitan, and a number of beautiful waterfalls, it's a park you don't want to miss.
Lassen Volcanic National Park
As we get to Northern California, we visit Lassen Volcanic National Park with its rich hydrothermal sites and bubbling mud ponds. It's also covered in remnants of old volcanic activity.
Redwood National Park
Want to talk about tall trees? The tallest tree in the world is located in this California National Park! Hyperion stands 380 feet tall and is a site you don't want to miss.
Ready for your California National Park Adventure
There are so many rich and diverse landscapes in California! From oceans and deserts, volcanoes to wildflowers, it's worth discovering all the nature the state has to offer at these California National Parks. Make sure to add Gold Country Campground Resort to your California road trip and camp in comfort!