California State Parks Around Gold Country Campground Resort
Staying at Gold Country Campground Resort puts you at the center of nature walks, forests, and outdoor activities. Whether you want to relax along the water or learn about Indigenous culture, there are many California State Parks in the area that offer both nature and history. Immerse yourself in the natural world and experience the joy of fresh air, beautiful views, and outdoor fun.
So lace up your hiking boots and join us at one of the many California State Parks!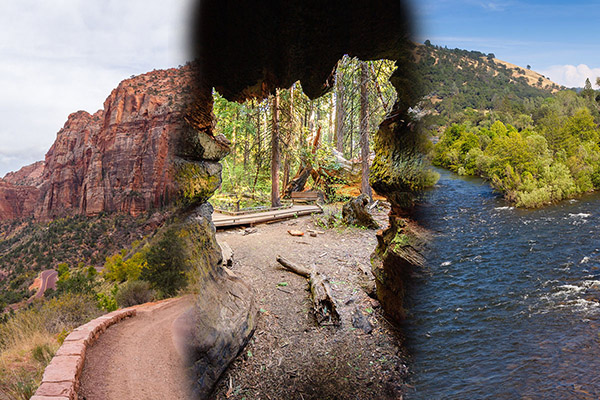 California State Parks located around Gold Country Campground Resort:
Gold Country Campground Resort has plenty of natural wonders with cozy forested views and over 40 acres of space and hiking trails right here on site. But it's also surrounded by rivers, tall trees, and historical landmarks that make up the beautiful California State Parks in the area. Here is a small list of local parks to add to your Gold Country visit.
Mount Zion State Forest– Starting with the closest California State Park, Mount Zion Demonstration Park is great for birding and hiking in the area. It's a quiet area with a ranger lookout station and microwave tower. If you're looking for a simple/moderate hike with a view, this is your place!
Indian Grinding State Historic Park– Appreciate the history and beauty of Native culture and land at this California State Park. View Native structures, visit the museum, and learn about the first people's way of life.
Calaveras Big Trees State Park– True to its name, this park is full of big sequoia trees. Some of the tallest trees in the world are Giant Sequoias, so get ready to be in awe at these towering beauties.
Columbia State Historic Park- Step back into the 1850s and the California Gold Rush! With demonstrations, tours, gold panning, and stagecoach rides this park is great for learning and fun.
Marshall Gold Discovery State Historic Park– Further north, this park is a replica of a historic sawmill. Learn about the Gold Rush and the old buildings that were erected because of it.
Folsom Lake State Recreation Area– This California State Park is perfect for those wanting to spend some time near the water. With beach and biking trails, it's great for a day trip in nature.
Which California State Park will you visit next?
There are so many California State Parks you can visit in the Sacramento, Stocken, and Pine Grove areas. From Gold Rush museums to Indigenous historical sites, there is so much rich culture, history, and knowledge to gain from visiting these parks. Plus, plenty of natural beauty from lakes, creeks, rivers, and watchtower views. Make sure to book your Gold Country Campground Resort stay and surround yourself with California State Parks adventure.
Get outside with Gold Country Campground Resort: