Change of Latitude, Change of Attitude
We love the fact that you love the tall trees, nearby ski slopes, gold mining towns, and all the events, amenities, and activities at Gold Country Campground. So, guess what? Today, we're extending a special invitation for you to do something totally new and completely different.
Long-term camping in Ramona, California – Not the Forest…the Beach!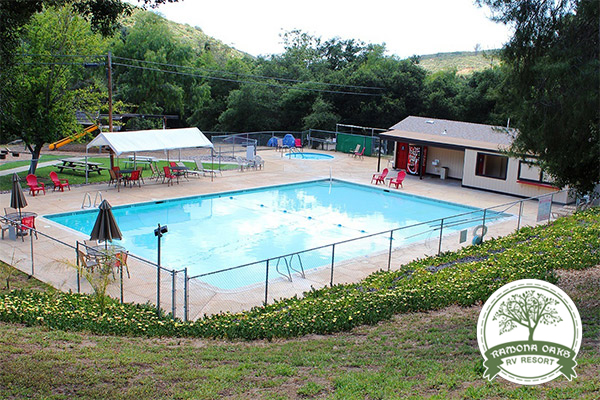 Just 8½ hours south of Gold Country, our sister location – Ramona Oaks RV Park – offers long-term camping with a summer-time vibe year round. Stay a month or even longer. Bring your swimsuit, bicycle, and fishing pole and enjoy lots of fun stuff like…
Don't forget to bring your 'best friend'. Ramona Oaks is pet-friendly and has a wonderful dog park and big trees.
Where is Ramona Oaks?
Easily accessible from Escondido, Interstate 8, and Interstate 15, Ramona Oaks RV Park is in the rolling hills of San Diego County and surrounded by vineyards and ranches. And it's just a short drive to the sandy shores of the Pacific Ocean. Southern California is a wonderland of exciting attractions, like…
La Jolla Cove
An unforgettable beach in San Diego ideal for snorkeling, scuba diving, kayaking and swimming. La Jolla Cove is a part of a marine refuge area with specific restrictions in order to protect marine life. No surfboards, boogie boards or inflatable devices are permitted, but the cove is usually swarming with snorkelers and swimmers looking to take advantage of this beautiful area.
Old Town San Diego
Spooky! Take a tour of a haunted building and spend a day at one of the many museums. Year round, Old Town is the place for food, folklore, and fun. Visit Old Town, celebrate San Diego's heritage, and bask in early California ambiance.
No-Casino Gambling
If you enjoy games of chance, sports betting, and gambling in general, but your favorite casinos and race tracks are closed, try My Bookie. Bet on anything, anywhere, anytime from the privacy of your RV with this online service.
No-Winery Wine Tasting
Is your favorite vineyard tasting room closed? No worries! Bernardo Winery will ship wines directly to you in your RV. Choose from a long list of locally-produced wines. Watch Netflix and chill in style.
No-Disco Dancing
All the clubs are currently closed too, but that doesn't mean you can't party anyway. Sip some of that wine you just ordered and click on Body Groove. Learn new moves while you dance in your underpants. The clubs won't be closed forever.
Plan something entirely different for your next long-term camping experience. Plan a visit to Ramona Oaks RV Park. Call today to reserve your stay!
*Due to current circumstances, some amenities or activities have reduced hours or capabilities. Check with the front desk for daily updates.