Gold Country Hiking Safety Tips
Escaping the sweltering heat of the Sacramento area and taking in the cooler fresh air of Gold Country Campground Resort makes for excellent summer camping trips. That goes double for the tail end of summer. While temperatures can still get above 90 in the city, we have beautiful 86 to 88-degree temps. It's still summer weather up here, but it's also not so hot you can't enjoy beautiful Gold Country hiking.
At Gold Country Campground Resort, you can enjoy the 46 acres and nature trails to get a glimpse of turkeys, foxes, and other wildlife roaming the grounds. Hike through the huge trees that grow here in the Sierra Mountain foothills, find an excellent place for picnicking, or bring your camera for nature and wildlife photography. The following tips will help keep you safe while exploring the beauty surrounding Gold Country Campground Resort.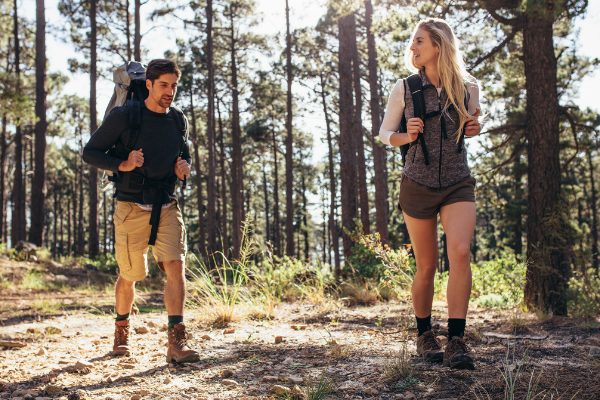 Gold Country Hiking Safety Tips
Bring Water: Even if you are only going on a short hike, it is always a good idea to carry some water with you. Warm temperatures coupled with dry air can cause you to lose moisture quickly.
Stay On Trails: It is always a best practice to stay on existing trails while hiking. Doing so can help protect the surrounding environment, help prevent erosion, and aid in navigating your way back to camp.
Hike With Someone: If you are going on a longer hike, having a buddy along with you can help keep you safe and have quick access to help in the event of an emergency.
Bring A Cell Phone (or Walkie-Talkie): Gold Country Campground Resort has cell service at the campground and much of the surrounding area. Carrying a smartphone with you provides you with a handheld GPS unit, flashlight, and emergency phone in an easy-to-carry package. Adding a walkie-talkie to your hiking ensemble can keep you in contact with your family if you enter an area without cell coverage, and they can be more fun than phones.
Wear Sunscreen: As mentioned, September through October still has beautiful sunny summer weather. The pool and splash park are open until the end of October – and hiking around the area can keep you out in the sun longer than you expect. It's always a good idea to wear sunscreen while swimming or hiking!
Experience Gold Country Hiking During The Week
Don't forget that our Weekday Special is still going on! Book an RV site for 2 nights from Sunday through Wednesday and get the 3rd night FREE! Visit our Specials page to learn more and view our other discounts to get the best price on your next Gold Country hiking and camping trip!
Lace-up Your Shoes and Hit the Hiking Trails!