How to Enjoy Thanksgiving While Camping
For avid camping fans, it can be a difficult choice deciding between a camping excursion versus staying home on Thanksgiving. Luckily, families can enjoy both a well-prepared Thanksgiving dinner and a camping trip simultaneously with a little creativity and innovation!
Tips for Cooking Thanksgiving Dinner
Here at Gold Country Campground Resort, we offer a variety of accommodations including RV sites, Cabins, and rooms in our Lodge. RV appliances will vary, but our Lodge rooms come equipped with mini fridges and microwaves.
While being limited to just a microwave for cooking Thanksgiving dinner may seem impossible, it is actually quite doable. The biggest concern for Thanksgiving campers is likely how in the world they will prepare the main dish: turkey.
There are a number of ways to achieve the perfect Thanksgiving turkey while camping. The ideal way is to buy a smaller turkey that can fit in a limited space, such as a microwave or small RV oven. It is also totally feasible to cook a turkey in a Dutch oven placed over a campfire and left to roast for around 5 hours.
Make sure to bring a cooking thermometer to ensure your turkey is thoroughly cooked – remember, a finished turkey should be 165 degrees Fahrenheit!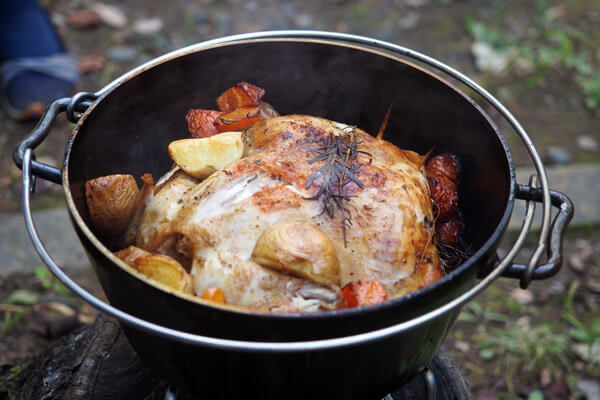 Check out this Bustle article for more tips on how to prepare an entire Thanksgiving meal with just a microwave!
Activities to Enjoy While Working Off All the Stuffing
Gold Country offers a myriad of fun activities for the whole family to enjoy after stuffing themselves with Thanksgiving dinner. There are plenty of amenities and activities to keep everyone entertained, including:
A game room with pool, electric darts, and ping pong.
Horseshoes to test your skill and aim.
A minigolf course.
46 acres of hiking trails.
Basketball courts for the ballers in the family.
Book your Thanksgiving camping trip today with Gold Country Campground Resort, and remember – we also offer fully furnished rental cabins and a rustic vacation cottage for reservation as well. Cabins have full kitchens – just pack your holiday groceries and cooking gear and you're all set!