Indigenous History in the Sierra Nevada Foothills
The local area of Gold Country Campground Resort is rich with the histories of the Indigenous people of America. The cultures, the stories, and the landscapes are all beautiful representations and solemn reminders of the experience of the local Native communities.
Take some time to explore the area's Indigenous history with these local museums and trails.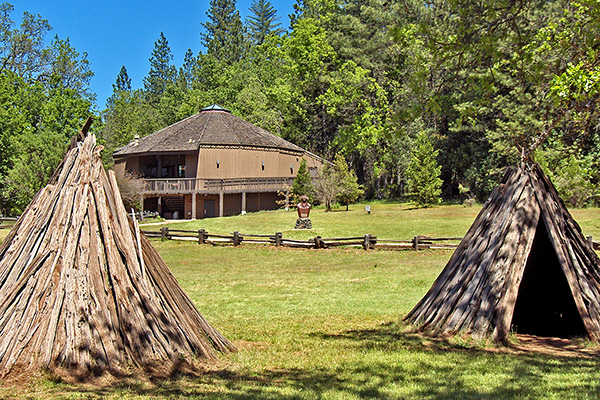 Four ways to explore the Indigenous history of the Sierra Nevada foothills.
Indian Grinding Rock California State Historic Park
Hike through history and explore the land of Chaw Se' Indians. With the largest collection of bedrock mortars in North America, you will truly get a look into how Native cultures experienced life in the Sierra Nevada foothills.
Chaw Se' Roadhouse
While exploring the Indigenous history of Indian Grinding Rock, make sure to stop by the Chaw Se' Roadhouse area. You won't want to miss these beautiful structures and rich cultural monuments of Native life.
Jackson Rancheria
The Jackson Rancheria Casino is operated by the Jackson Rancheria Band of Miwuk Indians. Celebrating the Sierra Miwok (aka Miwuk, Me-Wuk, Mi-Wuck and Mewuk) tribe of north-central California, this gaming center has a loving place in the area's native community.
State Indian Museum State Historic Park
Further north in Sacramento, you'll find the State Indian Museum and its many exhibits dedicated to the Native culture. Displaying tools, crafts, and clothing related to the Indigenous history of the Sierra Nevada foothills, they even have a gift shop of Native-made items.
Celebrate Indigenous history near Gold Country Campground Resort!
When you book your stay at Gold Country Campground Resort, you are booking a stay in the heart of California's history. Get the know the land around you and celebrate the life, experiences, and histories of the Indigenous communities of the Sierra Nevada foothills.