Mokelumne River Valley
When you're visiting us here at the Gold Country Campground Resort, the Mokelumne River Valley is among the plethora of options to choose from when deciding what you want to do. Gold Country is rich in history and nature, so you'll have to spend your time wisely.
One great area to visit is where you can hit up nature and history at the same time. In fact, the Mokelumne River was designated as a Wild and Scenic River last year, thanks to its picturesque and recreational values.
---
Mokelumne River History
The river valley was inhabited by Yokuts, Miwok, and Wintun Native Americans. The name, Mokelumne was recorded by Spanish Missionaries in 1817 and the first permanent settlement was established in 1830. It is thought that Mokelumne meant "Condor River" in the Yokut language. The Mokelumne River was a gold-producing stream during the Gold Rush. Gold was initially discovered there by Charles Weber in 1848.
Mokelumne River Recreation
If you're feeling adventurous you might enjoy kayaking on the Mokelumne River. There are five whitewater kayaking runs located on the river; Fantasy Falls, Electra-Middle Bar, Ponderosa, Devil's Nose, and Tiger Creek Dam. Fishing is also a great activity in the region as you can find at least 35 different species of fish.
Some of the species you can find are Pacific salmon, steelhead trout, chinook salmon, largemouth bass, and bluegill. There's plenty to do on the river even if you're not interested in kayaking or fishing. There are nature trails you can wander, plenty of our avian friends for you to observe, and gold panning.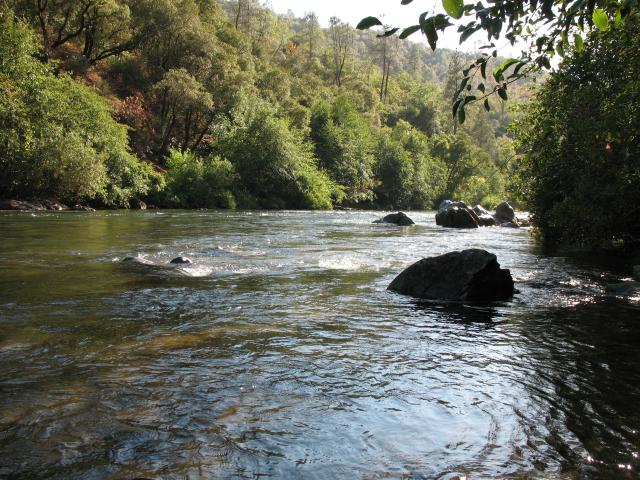 ---
About Gold Country Campground Resort
The Gold Country Campground Resort has been around since 1956 as a place where visitors could discover the rich tradition and rugged beauty of California's Gold Country including the Mokelumne River.
We offer accommodations and several amenities including state of the art Wi-Fi. To find out more about the other great amenities click here. You can reserve your place with us at https://www.goldcountrycampground.com/reservations/.