No RV, No Problem: Four Other Great Camping Options at Gold Country
When you're visiting us, you're reconnecting with nature. While that can take on many forms: hiking, fishing, bird-watching, etc., you will still want a modicum of privacy and a safe haven for sleeping.
Lucky for you, Gold Country Campground Resort offers four additional camping options than bringing your own rig. All of your camping needs have been anticipated by attentive and experienced staff, since 1956. We also have two large clubhouses with kitchenette's for larger groups that wish to dine or socialize together.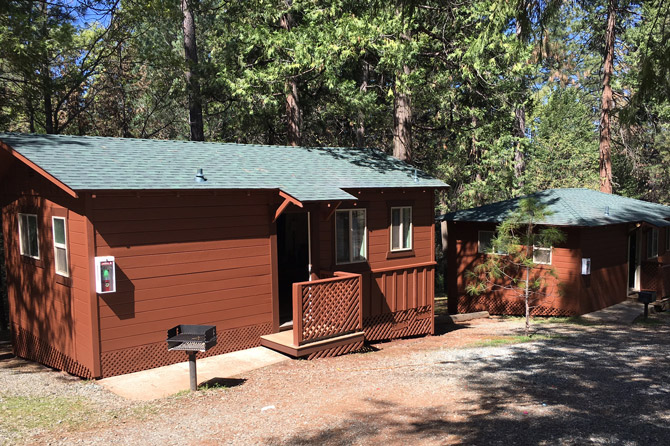 ---
4 More Camping Options at Gold Country
Pitch a Tent
You can set up your tent at any one of our 31 tent campsites. Tents camping is the ultimate frugal activity, and when you look at the bang-for-your-buck the choice is easy. The maximum stay is four days, and leashed pets are welcome. Tent campsites include: picnic table, fire ring, and restrooms & showers.
Enjoy a Rustic Vacation Cottage
This is a great option for larger groups and families. The maximum stay is one week, non-smoking, and has Cable TV & Wi-Fi. It comfortably sleeps six, boasts a private deck-for coffee at sunrise-with a beautiful mountain view, comes equipped with heat & air conditioning, fully-equipped kitchen with stove, microwave, refrigerator, and coffee maker, dining table with chairs, and two vehicles-parking.
Lodge in One of 6 Rental Cabins
Here's another great family option rental. The maximum stay is one week, and all cabins are non-smoking. You'll enjoy the comfort of a fully-furnished rental cabin that sleeps up to four, has a private deck, two vehicles-parking, full bathroom, and Cable TV & Wi-Fi.
Stay in One of 8 Cozy Lodge Rooms
Conveniently located at the front of the resort, you and your partner will rest comfortably in a king-sized bed, or two doubles. Maximum stay is one week, and all lodge rooms are non-smoking. Your cozy lodge has heat & air conditioning, a mini-fridge with microwave & coffee maker, one full bathroom: tub & shower, Cable TV & Wi-Fi, and one vehicle-parking.
Book your next Pine Grove area camping trip at Gold Country Campground today!