Packing For Your First RV Trip
With many travelers opting for domestic trips across the U.S., this year will mark what is expected to be the biggest summer yet for new RV travelers – both new owners and renters. Travelers are finding that RVs offer everything they are looking for – the ability for spontaneous and quick getaways, added flexibility in planning, the capability to work while on the road, and the opportunity to enjoy the great outdoors with state and national parks right at your footsteps.
Gold Country Campground is thrilled to be your home base for your RV adventure this camping season, whether you're a returning or first-time visitor. Home to a pool and splash park, and with hiking and walking trails right here, Gold Country Campground is excited to welcome you!
As your RV trip approaches, we're here to take the stress away from packing with our below essential RV packing guide broken down into three categories: bed and bath, kitchen, and camping essentials. As you pack, you'll likely find that your packing is tailored to your taste of activities and the activities you have in mind! Just keep in mind that many campgrounds don't allow you to bring firewood, so leave that at home.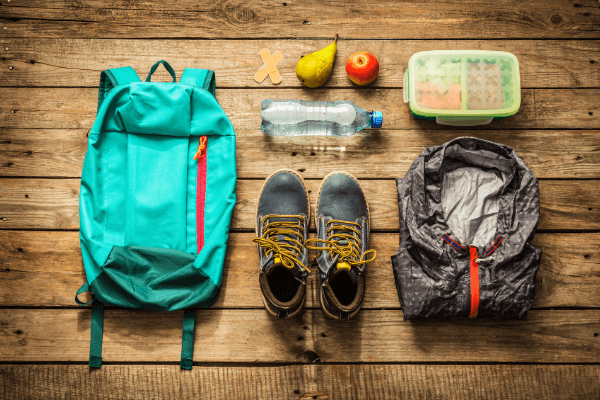 Bed and Bath
It's easy to overlook this category when you're used to staying in a hotel, but you'll want to be sure to pack your bed and bath necessities, especially the below items. You don't want to pull up and then realize that you forget to bring toilet paper or toothpaste!
Towels/washcloths
Toothbrush and toothpaste
Any other daily toiletry items
Shower shoes (i.e. flip flops) and shower "bag" to transport your shower items to the shower
Toilet paper
Tissues
Sheets and any needed blankets (it can get chilly at night!)
Pillows
Laundry detergent (depending on how long you're staying and if you are planning to need to do laundry)
Kitchen
What attracts many travelers to RVing is the luxury of cooking on-site rather than eating out, and the money that can be saved. Think about what you have already stocked in your RV and what you might need to cook some of your favorite cozy meals. Regardless of what you're planning to cook and how frequently, we always recommend packing utensils, aluminum foil and/or saran wrap, paper towels and/or napkins, food storage containers, dish soap, sponges, towels, potholders, and trash bags.
Any perishable, or canned food, items for cooking
Pots and pans
Cutting board
Cutting knives
Cooking utensils
Mixing bowls
Measuring cups
Camping Essentials
The last category includes items that you will want to not only have handy to enjoy your camping experience but also for any other activities you might embark on.
Refillable water bottles
Flashlights and/or headlamps
Camping chairs (often foldable chairs)
A deck of cards or any games you wish to play
Outdoor gear or special shoes for any activities (biking, hiking, fishing, etc.)
Clothing (this is the hardest area to not overpack in – remember, there's laundry on-site!)
Bathing suits and sunscreen (for the outdoor pool and splash park!)
Portable grill for any outdoor cooking
We hope you will book your next outdoor adventure with Gold Country Campground Resort. We're excited to welcome newcomers to RVing – but if that's not your thing, we also offer cabins, lodge rooms, and tent sites!
Summer is filling up fast!