Tent Camping: Tips For Beginners
May 1st was the official start of Peak Season at Gold Country Campground Resort. All our resort amenities, including our outdoor swimming pool, Splash Park, mini golf, and much more, are now open! It's the perfect time to enjoy all we have to offer, especially with the weather warming up! May is also the start of tent camping season!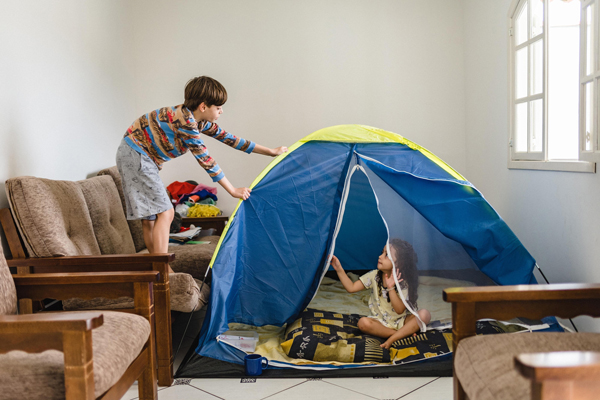 New To Tent Camping?
If you and the family are new to traditional camping in tents, spring and summer are the best seasons to experience the joys of tent camping for the first time. And what better place for this opportunity than right here at Gold Country Campground Resort, where you'll have the comfort and convenience of amenities just steps from your campsite and plenty of activities to boot!
When you and the family book a campsite at Gold Country Campground Resort, you're reserving a cozy spot among the pines, complete with a picnic table and fire ring. All tent sites are near our clean bathhouses with hot showers.
Tips For First-Time Tent Campers
Tip #1: Do a dry run with your camping gear.
Several days before setting off for your camping getaway, test out your camping gear. Set up the tent in your backyard or living room a few times to get the hang of it, and make sure all parts are in good condition. Get the kiddos involved, showing them how to assemble and pitch the tent so that they can help out at the campground as well!
Tip #2: Prepare meals beforehand.
Cooking at the campsite doesn't have to be tedious if you come prepared. Put together meals ahead of time at home to reduce the workload at camp. For example, you can chop vegetables, pre-mix pancake batter, or marinate meats beforehand. Also, pack easy snacks to satisfy the munchies. (No worries if you forget to bring goodies. We have all sorts of snacks and drinks at our camp store for your convenience!)
Tip #3: Arrive early to set up camp.
Give yourself plenty of time to pitch your tent and arrange the campsite. Check-in time at Gold Country Campground Resort is 1:00pm, so arriving shortly after gives you and the family ample time to get situated and start enjoying all the resort offers from Day 1!
Tip #4: Leave shoes outside the tent.
Keep the interior of your tent nice and clean by leaving shoes outside before entering. Then, pack the shoes into a container for safekeeping. If you are tent camping with your pup, bring along a brush and towel to keep excess pet hair and debris out of the tent.
Of course, if tent camping isn't your thing, families can opt to camp in an RV site, cabin, cottage, or rent a room in our lodge. There is no one way to experience the great outdoors when staying at Gold Country Campground Resort! Make your reservations for summer in advance so you don't miss out on all the family camping adventures!
Pack for an Outdoor Camping Experience Your Family Will Love!