Things to Do in Sacramento
Sacramento, California is just 57 miles from Gold Country Campground Resort and full of fun things to do! If you're looking for a day trip to the big city, it's worth the drive for the food, sights, sounds, and, of course, shopping.
So save this list for your next trip to Sacramento and make Gold Country Campground Resort your Northern California home base.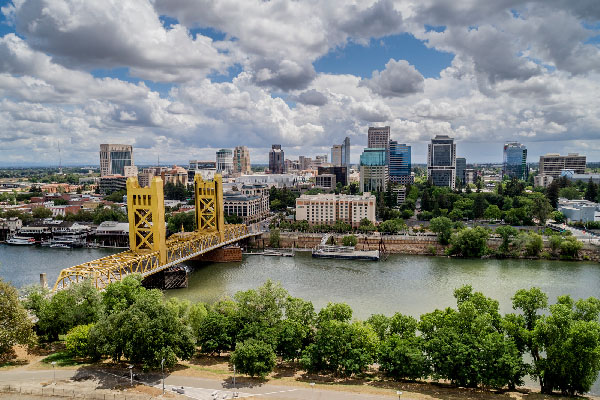 Things to do in Sacramento, California
Sacramento Zoo– Birds, mammals, and reptiles, Oh My! Visit the Sacramento Zoo to learn about different animals from all over the world.
California State Railroad Museum– All aboard! Railroads and trains are a big part of how California became what it is today. Visit this museum for an inside look into the history of the California railroad.
Leland Stanford Mansion State Historic Park– A great place for those who love stunning architecture!
Crocker Art Museum– One of the first art museums in the US.
Old Sacramento– Step back into the past and check out the history and architecture of Old Sacramento.
Sutter's Fort State Historic Park– Take a step back to a time of covered wagons, blacksmiths, and cannon blasts. And all right in the heart of Sacramento!
California Automobile Museum– Visit the unique vintage cars of the California Automobile Museum and view a historical timeline of one of America's most influential inventions.
Sacramento McKinley Park– Perfect for a stroll through the roses or a walk through the garden. They even have a kid's area!
California State Indian Museum– Get to know the history of America's first peoples.
State Capitol Park– Sacramento is California's state capitol and houses the beautiful capitol building and surrounding park.
American River Bicycle Trail– Grab your bikes and enjoy over 30 miles of beautiful trails.
Ready for your day trip to Sacramento?
There are so many things to do in Sacramento from art to animals, biking to capitol buildings. A neat place to visit for those who enjoy cool architecture or for those who just want a day in the city.
Just remember to make Gold Country Campground Resort your home base to all things Northern California!