Top Reasons To Staycation at Gold Country
Compared to a traditional vacation, a staycation is a type of getaway spent near home, enjoying exciting activities or visiting local attractions. Staycations are an excellent alternative for families with hectic schedules and those on a budget. Nowadays, with soaring fuel prices, airline travel fares, and other factors affected by inflation, traveling closer to home seems even more appealing. There are so many reasons to staycation this summer, especially when that place is nearby at Gold Country Campground Resort.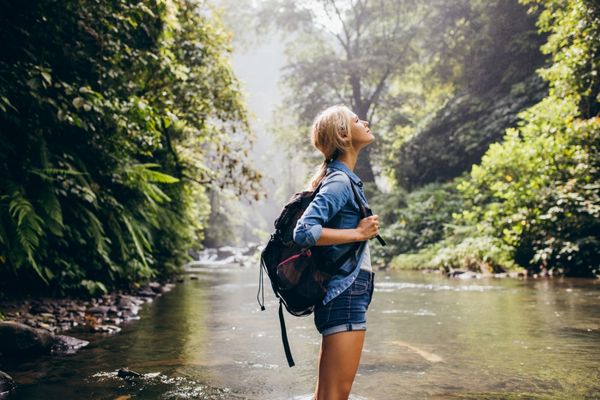 Top Reasons To Staycation at Gold Country Campground Resort
It's Cost-effective
Unlike traditional vacations to far away destinations, staycations are more cost-effective because so many expenses are cut. Think about it. Staycations eliminate the need to book a flight, spend money eating out every day, renting a car to get around, and we haven't even covered accommodations.
A staycation to nearby Gold Country Campground Resort, for example, involves a short drive to paradise in the pines with the added benefit of affordable accommodations and amenities all on-site. You can enjoy a home cooked meal around your campfire or in the comfort of your cabin kitchen every night. And delight in family-fun activities and top-notch conveniences just steps away from your campsite or rental.
As an added bonus, we offer specials throughout the summer!
Senior citizens and military members can enjoy a 5% discount, and groups reserving 10 sites or more can enjoy 10% off their stay.
RVers can take advantage of the Weekday Special. Stay 2 nights and get the 3rd night free! (Sunday through Wednesday applies only.)
Planning is a Cinch
Staycations take the headache out of days or weeks of planning and preparation. Traditional vacations typically involve spending time comparison shopping for the best deals on travel and accommodations. They can include coming up with a full itinerary of sightseeing, outdoor fun, and attractions to appease every family member.
One of the best reasons to staycation at Gold Country Campground Resort is that little planning is involved. Once you book your getaway, the only thing left to do is bring the family. Then, we'll take it from there!
We are your all-in-one vacation destination with multiple ways to stay and play. You and the family can camp your way in a rustic tent site, spacious RV site, or upgrade to a cabin or our lodge. Spend the day jumping from one activity to another in the park or make it a restful retreat to recharge and get closer to nature.
Less Travel Time Means More Quality Time
Especially with cross-country or international travel, getting to where you want to go takes time, time away from starting your getaway. Dealing with layovers or worrying about a tire blowing out on a 2000+ mile road trip doesn't sound as pleasing as a camping adventure in the mountains at nearby Gold Country Campground Resort.
Staycations require minimal travel time. And for folks that live in Sacramento, Stockton, Modesto, Lake Tahoe, and Carson City, a drive up to our resort is at most 2-hours long. Minimal travel time equals maximum quality time with the family in the great outdoors.
Campers Have Been Staycationing Here For Generations
Tradition, however, is top of the list of reasons to staycation with us. Many of our returning guests were children when they first visited Gold Country Campground. They are now returning with children and grandchildren of their own to enjoy family fun in the mountains!
Camping Adventures Are Waiting Nearby At Gold Country!