Travel Through Time on the Gold Rush Trail
The over 300 mile stretch of highway from Oakhurst to Vinton, California, has been dubbed the Gold Rush Trail and Gold Chain Highway, but most folks around here refer to it as California Highway 49. So named for the waves of immigrants who swept into the area looking for gold, this scenic route is peppered with picturesque historic mining towns and panoramic vistas overlooking lush pine and redwood forests and sparkling lakes and rivers.
When you stay at Gold Country Campground Resort, you are in the heart of Gold Rush territory and just minutes from the legendary highway. Take a trip through time with the family and scout out some of the more popular sites, and marvel at the natural beauty along the way.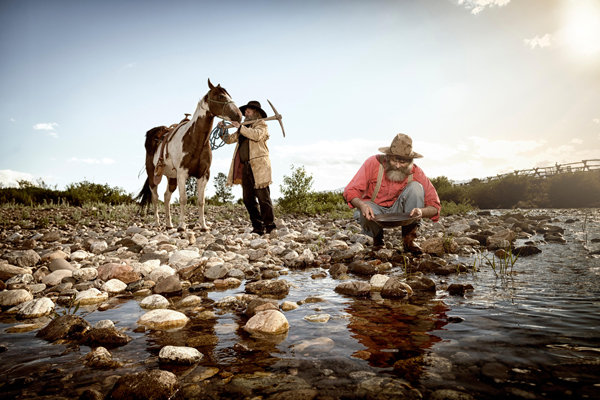 Must-See Sites Along the Gold Rush Trail
Marshall Gold Discovery State Historic Park:
Stand on the very spot where the first tiny flecks of gold were spotted by James Marshall, sparking the start of the Gold Rush.
Empire Mine State Historic Park:
Explore what was once one of the largest, deepest, longest, and richest gold mines in California. The park is a time capsule containing many of the mine's buildings and the entrance to over 300 miles of abandoned and flooded mine shafts.
Columbia State Historic Park:
Speaking of time capsules, one of the best-preserved mining towns along the Gold Rush Trail is in Columbia. Visitors can literally see, smell, and hear the sounds of a 19th-century mining town, from docents dressed in period costumes to stagecoaches rumbling by. In addition, the historic park features the most extensive single collection of existing gold rush-era structures in the state.
Walking Tours of Nearby Amador City, Sutter Creek, and Jackson:
For those wanting to learn more about the intricate details of various mining towns, several offer self-guided walking tours of downtown. Maps can be collected at the town's Chamber of Commerce.
However You Plan to Explore Highway 49, Plan to Stay With Us
There is much to explore along the Gold Rush Trail. Whether you plan to stop at every town and scenic overlook along the way or pick and choose landmarks, plan to stay with us at Gold Country Campground Resort along your journey! We have a variety of accommodations, including cabins, a cottage, lodge, RV sites, and even tent sites. Plus, our first-rate amenities add an extra layer of comfort and convenience to your stay!
Learn All About the Gold Rush When You Stay With Us At Gold Country Campground Resort!